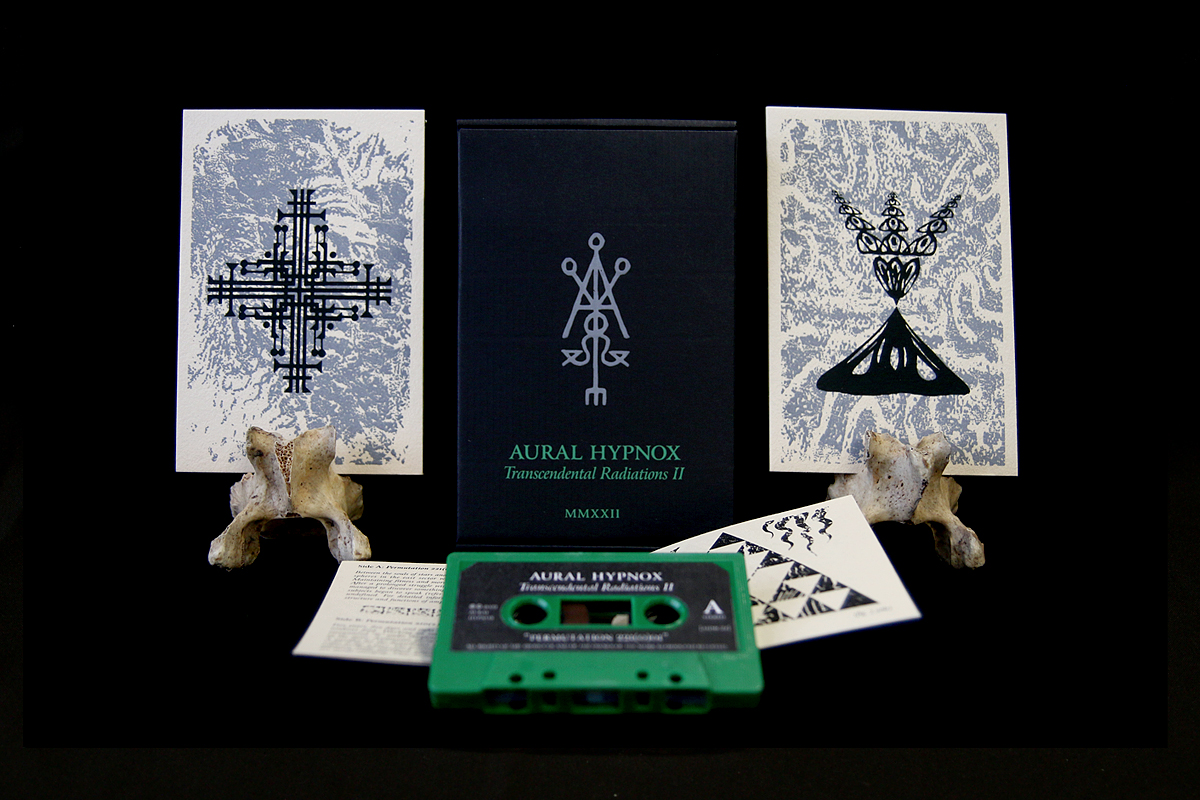 Transcendental Radiations is Aural Hypnox label series, a continuation of our previous "Underworld Transmissions" cassette series released between 2013-2015.
The noise and light from dark energy that floods the frontiers of understanding and more specifically the mysterious colossal beings, stimuli that silently fire and interpenetrate our sensory receptors are received and processed on tape and film in various seasonally stratified magnetic locations in Finland, Fenno-Scandinavia.
The concept of the series is to invite artists from the Helixes collective, in different combinations and under exposure to extremely low frequency magnetic fields to study, conceive and reflect the passing random and rhythmic, static and repetitive electrochemical activity; the neural oscillations and vibrating energy filaments streaming and running silently through the ubiquitous particles at the chosen location at that very moment.
By using a variety of techniques, physical and chemical stimulation we amplify and transform the Waves of Power propagating through the universe and synchronize ourselves through ecstatic interaction and intelligence that is in sounds.
The cassette is housed inside an oversized, screen printed cardboard covers including two insert cards and an 8-panel booklet. Limited to 100 copies.
The package is included with a Bandcamp download code. The digital download edition will include a quality audio, high resolution scans of the original covers and inserts. If you are using a Bandcamp application you will be able to stream the album without a need for downloading.
To order, visit our shop here:
https://www.auralhypnox-shop.com
Shipping will start on next tuesday April 12th.
The new video is coming out soon
The video for the new "Transcendental Radiations" is still under work, but will be online shortly. To receive a notification of the publication, please start following our YouTube Channel.
https://www.youtube.com/auralhypnox
NOTE 1: Read this before ordering!
We highly recommend you to use priority mail also for the small orders. This has been proven to be the fastest and safest option. If you have chosen economy mail and in case you order gets lost there's basically nothing we can do about it – and your order will not be refunded! Please, keep in mind that the difference in price between these two is rather minimal.
For large orders the best, cheapest and safest option is the parcel connect service, which comes with a tracking number (service available for most European countries). For the "rest of the world" orders we highly recommend registered package.
NOTE 2: Customers from Russia and Belarus
We just got a note from our national post office Posti and it says that they will be suspending letter and parcel traffic to Russia and Belarus until further notice.
As of April 11, 2022, Posti will suspend all letter and parcel traffic between Finland and Russia as well as between Finland and Belarus until further notice, based on the exceptional circumstances as per the Universal Postal Union agreements. The suspension concerns letter and parcel traffic from Finland to Russia and Belarus as well as from Russia and Belarus to Finland.