Caickuwi Cauwas Walkeus

HALO MANASH

Travelogue of Haubourdin – Bretagne – Paris, Janvier 2009
Personnel: Riimu / Anti Ittna H. / Akiz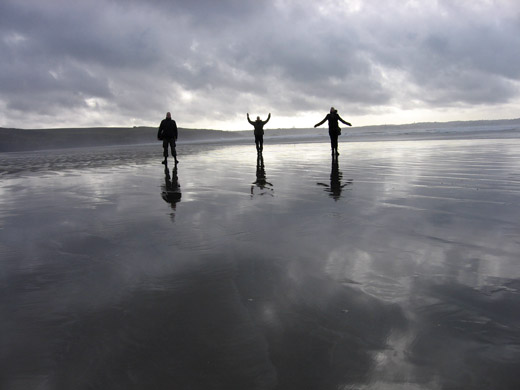 **
Yli Corpein Huocavat
Läpi Soiden Waeltawat
Caickuwi Cauwas Walkeus
Mustan Mullan Alle Maatumahan
Pimeys On Ninquin Walkeus
Puuxi Tullut
Halo Manash two-week journey of France began in Haubourdin (near Lille), in the Gallery "Vous êtes ici" ("You are here"), where we were to undertake a tree-fold invocation, in the form of an exhibition of photographs, a screening of films, and a series of three consecutive performances. Sleeping and working at the place several days prior to the opening, we started slowly building a sacred space, gathering the elements and raising the spirit necessary for such a creation.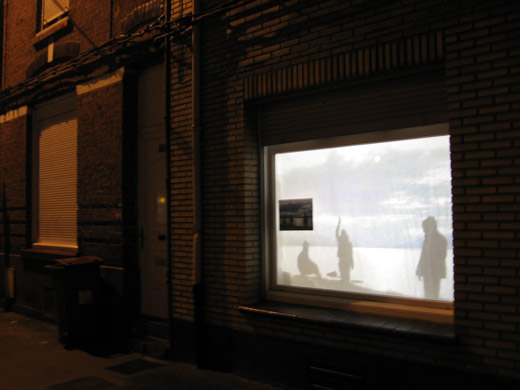 The empty space was a canvas to be transformed into a living portal. Walls soon became windows into other worlds, filled with a plethora of still and moving images and talismans; the air became pregnant with smoke and sound, wooden talismans on the floor became sources of light, and on the farthest wall, an altar was constructed, beside which our instruments, the sacred vessels of travel, were laid out.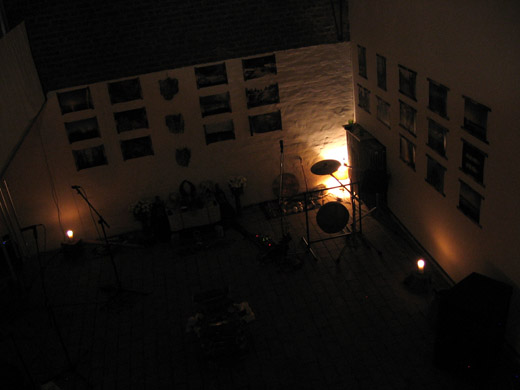 Above the altar, a pillar of three tree-faces, into three worlds, into three times – mirroring our own. Below the pillar, a centrally placed cosmic egg in the form of a perfectly rounded stone, surrounded by light and horns, to be bathed in sacred liquids. A sign of primal unity and totality, from whence seven substances in wooden containers were derived: milk, water, red spirits, blood, ash, leaves and incense. Dual skulls on left and right, of man and animal respectively. A gate of horns, from dual antlers. Feathers and bones, white flowers and red light. And vihdat, sacred bundles of birch branches, with which to conduct ritual purification.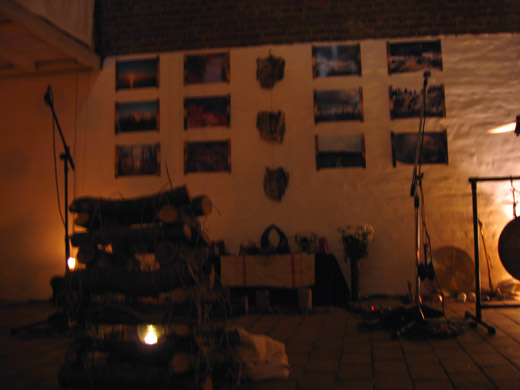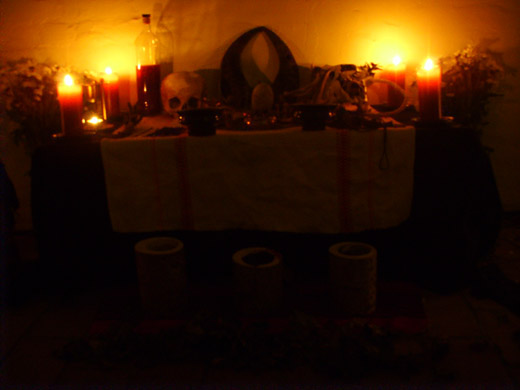 Photo: Boris
**
Haubourdin
I.
The opening of the event consisted of a screening of the film r.A.S.H.n.k.a-RA: In 4 Elements, and the newly finished TAIWASKIVI, that relates to the tree-logy of albums that is now completed. Archetypal visions from north and south, a waking dream-narrative, a primal journey.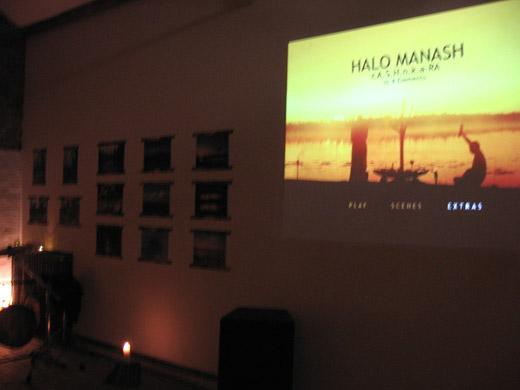 Coming into being. In the tradition of Halo Manash, initiation consists of a new birth, a shedding of skin and an awakening. Friday was a night for such an initiation. Substances and smoke filled the aether, libations were raised and shared by all, the tree-man roused into stance and dance. Guided by spiralling keys, gestures and voices, in a canvas of sky and stars, skin took on new shapes and signs, birthed in blood and ash, and ever-new faces were revealed.
juurakkolmeen - sammalta – tuulentoon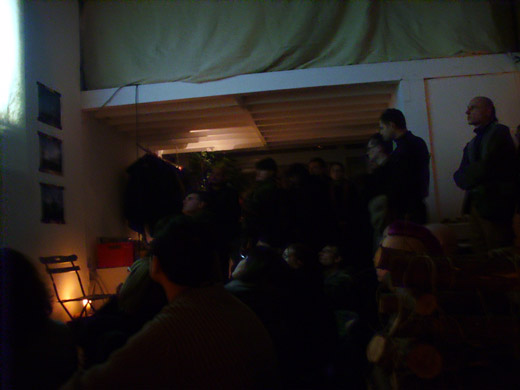 Photo: Boris
**
+++ Live photos from Haubourdin taken by Boris
II.
Culmination and consummation. A wooden totem, a central axis, was constructed, that became a shining pillar of light, an illumination in the nightly dark shrouds. After the libations had been again shared by all, a fierce ritual purification was perfomed with the vihtas, one that the participants gathered took part in - ready or not. The invocations took on an almost possessive character and force, and became a fiery unleashing of thundering energies that echoed long and deep. The invocation was a shining flame, the embers of which still pulsate with life.
jalkoineen juurtuu paikoilleen kesyyntyy väkeni kaarnasta ihosta naavasta tee tähän paikkaan kotisi
III.
Passing into new being. It was Full Moon, with the lunar sphere visible in its stark luminescent totality straight above us from the roofwindow. Resonances from last night were still present, but this Sunday, or Moonday, felt very different. We turned back into from where we came, and sound flowed as soft river. The last drops of libations left were shared once again by all, and we sat in lunar light and silently sang new being into shape.
sormiini kiertyneet oksat siirtyvät sinuun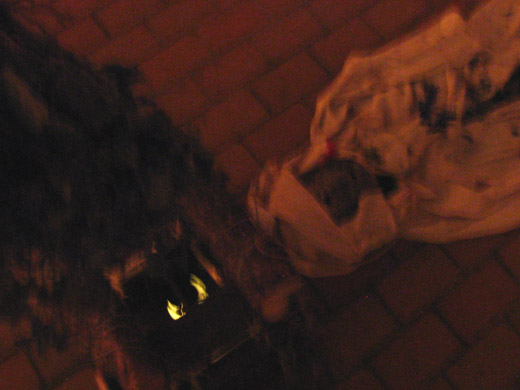 **
As the axis of Sunday and Monday coalesced, we thanked all gathered and present there, and prepared for the a new venture on our continuing journey.
Brest
We had left for Bretagne first by train, and then with a van through the countryside, finally arriving in Brest, Finistère. When one arrives, it is hard to imagine the city was almost totally destroyed, save for little more than three houses in the "Battle for Brest" during World War II, and has since been completely rebuilt.
In the evening, to herald our arrival in this place very distinct from the rest of France, we performed a thunderous invocation at Espace Leo Ferré, a completely circular concert space, to a small but dedicated audience.
luunpolttamaa luunpolttomaa - sydäntähti syö - mustan taivaan nielu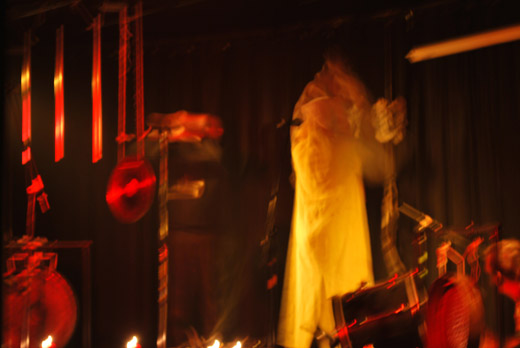 **
+++ Live photos from Espace Leo Ferré taken by Arnaud / STN
Menhirs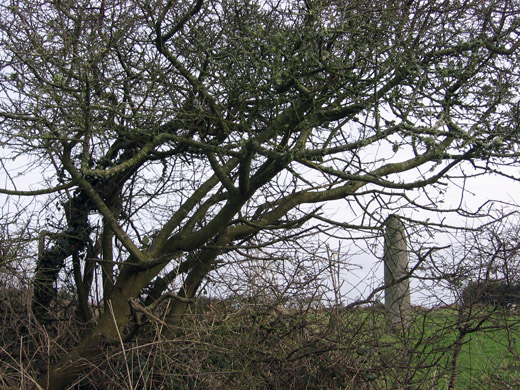 **
Travelling through the countryside, we visited various menhirs, "long stones" that could be seen raising starkly skyward from miles away. These giant monoliths still resonated with an undeniable and deep power over the landscape and surroundings. Touching their mossy surface, one could imagine what they must have witnessed during the course of the ages, having been the focus of countless sacral (and sacrificial) acts - up until the present day, when they are mostly ignored or used merely as landmarks by local farmers, the ancient knowledge of their significance now being lost and forgotten. And yet, someone had brought offerings to the root of one menhir, which tells that they still retain an aura that seems to linger on through time. What we have left of their original meaning are merely impressions and interpretations, but their stark power still speaks to the soul of men.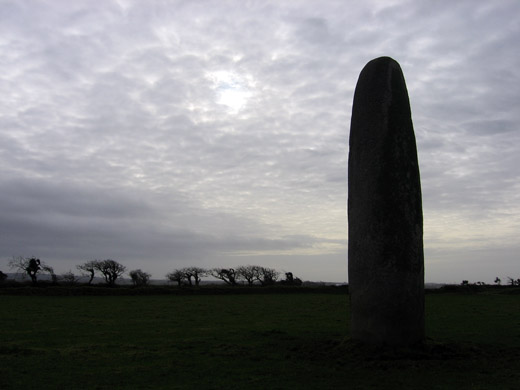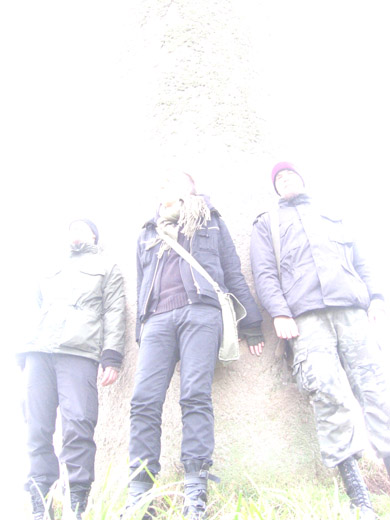 **
The presence of ancient standing stones almost everywhere in the world, from India, Greece, Mesopotamia, Thrace, Crete, Malta, Corsica to Brittany, England, Germany and Scandinavia, is according to the french artist turned Hindu philosopher Alain Daniélou proof of the spreading of an ancient ecstatic phallus cult, connected to a primordial Shiva / Dionysos figure. "Analogous to the phallus through which sperm travels, the pillar appears as a means of communication through which courses the life-giving principle of the sacred. It is the symbol of the tree of life, the world's axis."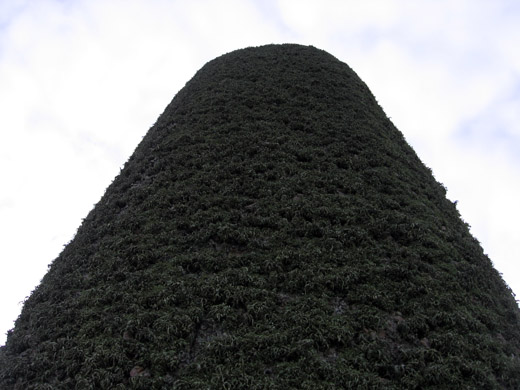 **
We walked in silent fields under the gray sky, in the shadows of these ancient megalithic monuments, and offered libations at some of them. Climbing on a fallen menhir, some of us lay down on it and "fell into sky". Crossing a field, we entered into a thick patch of forest, with shrinelike wooden enclosures and little streams running through it. Returning to the road, a white horse stared silently at us from a distance.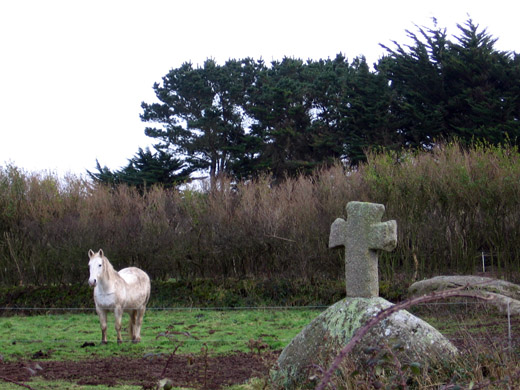 **
On our way to the sacred space at which we would perform that night, we paused at a small and idyllic harbour village, and walked through its stony pathways between little stony houses. Again, it is was silent, save for the hum of the ever-present ocean.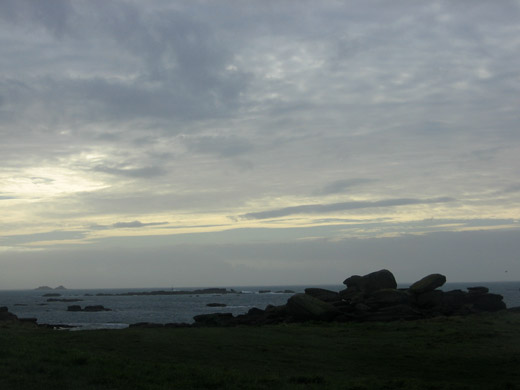 **
Pointe Saint Mathieu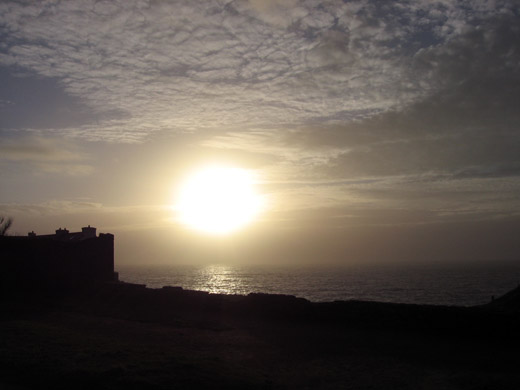 **
The ancient abbey of pointe Saint Mathieu served as our temple that night. Situated at the edge of a cliff, overlooking the open sea, its ruins rise high into the air. In this archaic setting we invoked in a progression of elements: bone – wood – metal – metal, wood and bone, our sounds and voices merging with the wind and the roar of the ocean and the waves. Libations were again shared by all present there. As we played approximately at au coucher du soleil, at one point staring upwards, one could see a brilliant starry sky resplendant above the towering ruins.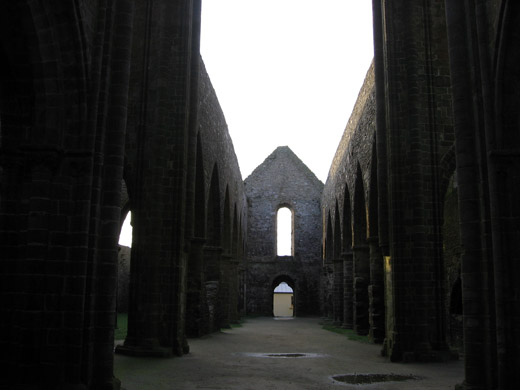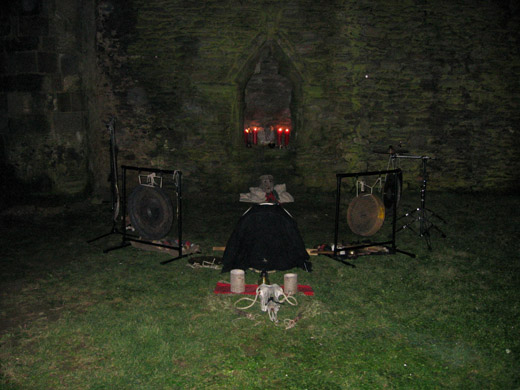 **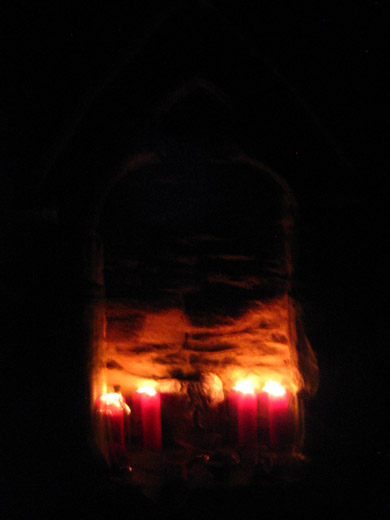 **
mereltä maalle aalloistaivaan valon takaiseen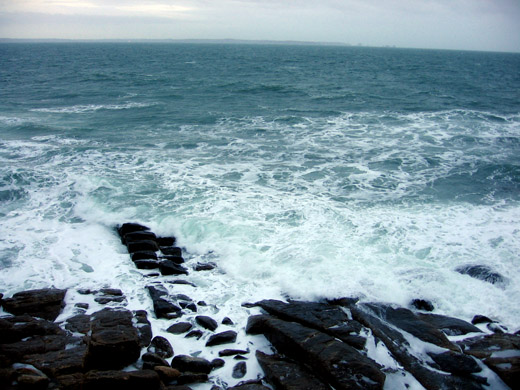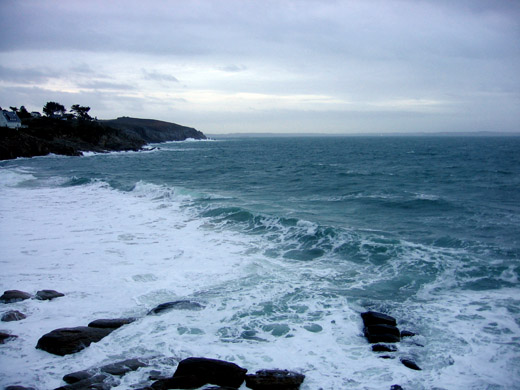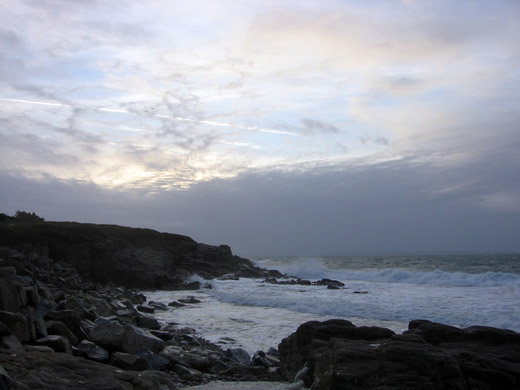 **
Huelgoat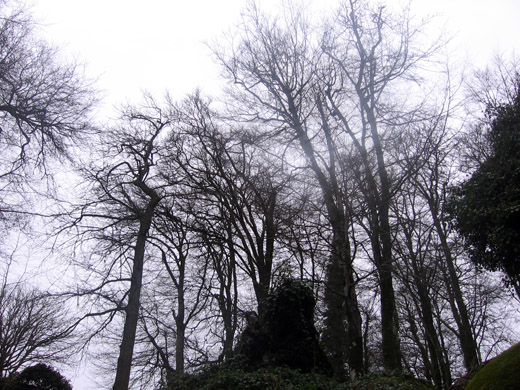 **
We visited the home of our guide for that day, who happens to live right next to a cemetary in a village outside of Brest. He lead us on to our next destination, the small and idyllic village of Huelgoat.
Huelgoat means Highwoods or Highforest, the name deriving from the old Breton words Huel (High) and Koat (wood or forest). Situated by a small picturesque lake, it used to be important from a military perspective in ancient times and Caesar's armies used to occupy a camp there after the Roman conquest. The lake flows into the Rivière d'Argent or the Silver River, that passes through an old watermill, and then descends into the Chaos rocks in a forest filled with many mythic sites, such as la Grotte du Diable and le Menage de la Vierge.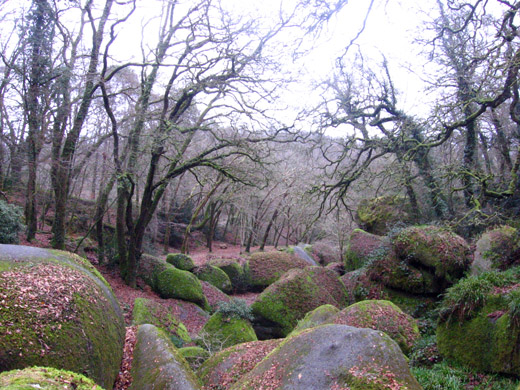 **
The legend the Chaos rocks connects the them with various stories about giants, as is also quite common in Finland. Of le Menage de la Vierge, we were told that it is a half Pagan, half Christian site, which seems self-evident and true of most such sites today, but little is told of this actual site or the background of it's name.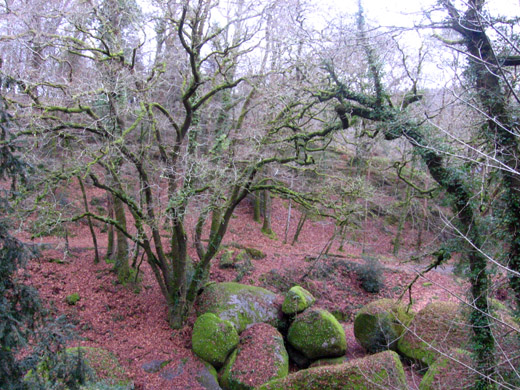 **
We descended deep into la Grotte du Diable, an underground cave system that the Silver River flows through. The legend tells of it being the gateway to hell, the road being lined with 99 bars, and you would have to make it to the last one without being drunk or you would have to spend the rest of eternity in the Devil's domain. It seems a Christian parable of drinking has overtaken a perhaps older and deeper meaning to this place, and besides- what is hell for some, is heaven for others.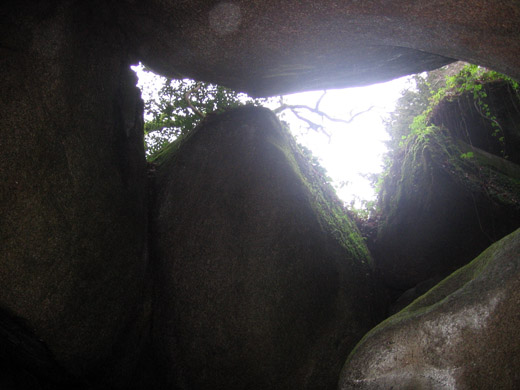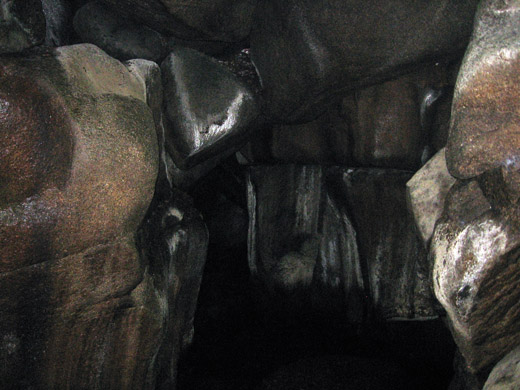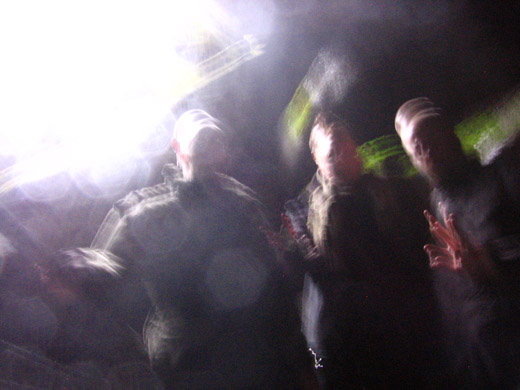 **
Walking in the deep greenery and between the giant stones that form cavelike passages, we were immeresed in a sense of age-old myth and majesty that such places can confer. In the forest we discovered an amphitheater-like structure, with large stone-stairs and a stage that overlooks the giant rocks.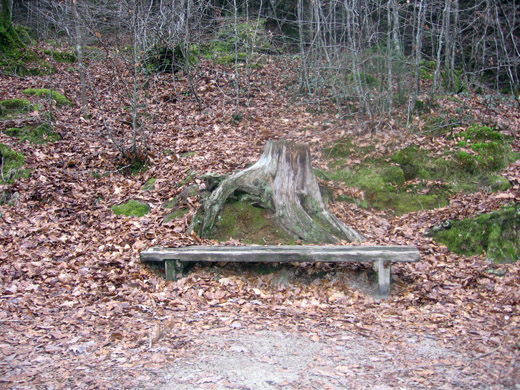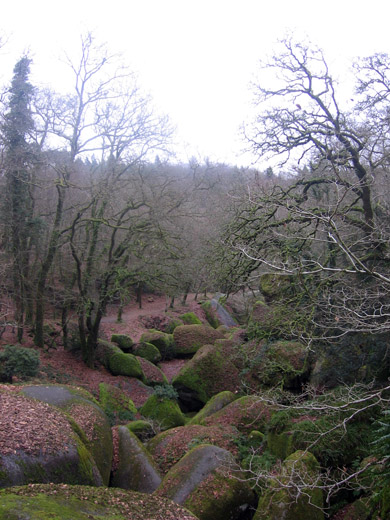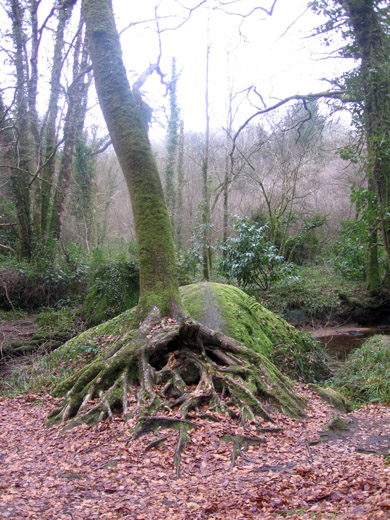 **
Lastly, we arrived at la Roche Tremblante, the trembling rock, a massive granite boulder weighing approximately a hunder tonnes, but that supposedly only needs a slight push in the right place to make it tremble. At this site our host took out a horn, filled it to the brim with Chouchen, a local drink made from the fermentation of honey in water (somewhat similar to mead), and we raised a toast.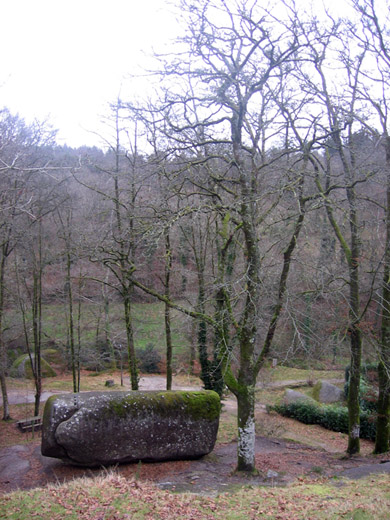 **
Mont Saint Michel de Braspart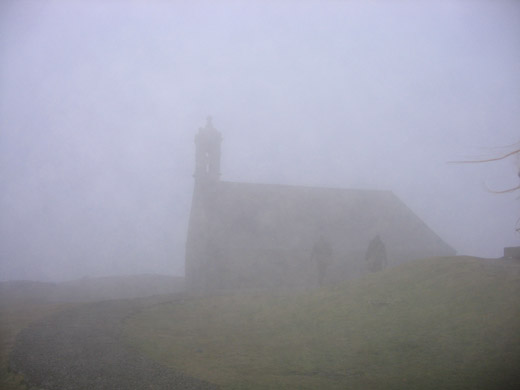 **
At sunset, we arrived at Chapelle Saint Michel, Mont Saint Michel de Braspart, where we were to perform that night. Chapelle Saint Michel is a little chapel on the top of the mountain, that has absolutely no visible signs of Christianity present. There was merely an old broken part of a celtic cross, and some carved symbols in the walls, put there either by seekers or juvenile vandals. Truly a bizarre but sacred place, supposedly it has a brilliant panorama-views of the area in clear daylight, but now it seemed to be literally the only building in the center of complete nothingness, swallowed by night and fog and silence.
We were again reminded of what several of our local hosts and guides told us: that almost all of the sacred sites in Brittany that now house churches or are considered Christian landmarks, are merely much older, pre-Christian sites of communion with the sacred that a church has been built on later, in an effort to establish the stronghold of Christianity over Paganism – as seems to be the case in most of other Europe as well.
The old stone-altar was already decorated with candles and flowers from some previous visitor there, and we added our own elements and substances on it. The space was filled with light and smoke. Marguerite, our ever-present guide and companion, started the proceedings with violin, playing one traditional and one improvised song.
And into the void we raised our voices and visions, communing with all gathered there, from three worlds, from three times.
sinä juot minä iloitsen sinä juot minun maailmani minä juon sinä juot sen minä juon sinun maailmasi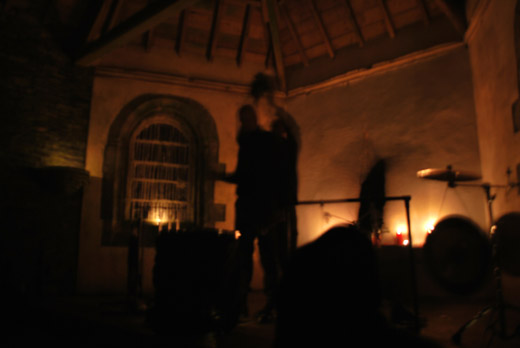 **
+++ Live photos from Chapelle Saint Michel taken by Arnaud / STN
St.Anne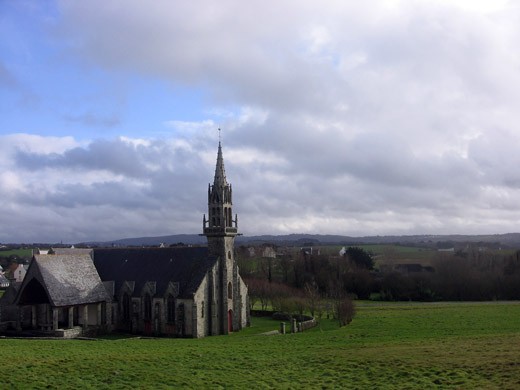 **
In the sunny afternoon, we arrived at Sainte-Anne-la-Palud, the name of which designates the swamps located there before they turned into sand dunes. There is an old church by a grassy field, that gives way to sand dunes and a majestic beach.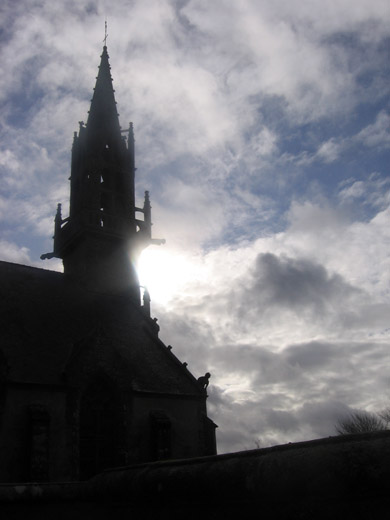 **
Saint Anne is the patron saint of Brittany. According to one of our guides, "Sainte Anne corresponds to the goddess Ana, or Na, the Gaulish version of Celtic Dana and mother of all gods of old Gaul, whom people from Brittany still revere through its Christian equivalent -- lavish celebrations take place several times a year in the church." Some stories were also heard about this place being the place of the goddess of death.
We descended slowly down the sand dunes toward the seashore, stopping by a large and somewhat surreal and out-of-place looking tree to meditate briefly. The Sun shone through the leaves, and the sea could be heard humming in the distance. When we continued toward the beach, we discovered the sand dunes were filled with bunkers, now closed.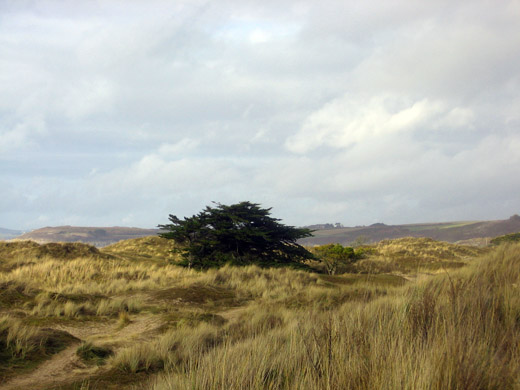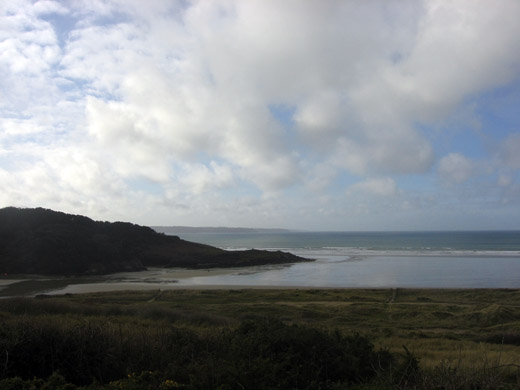 **
The beach seemed to go on forever, as the sea had receeded far from shore with the tides. It was a plain made of mirrorsurface, reflecting the vast clouds hovering above in the breezing wind.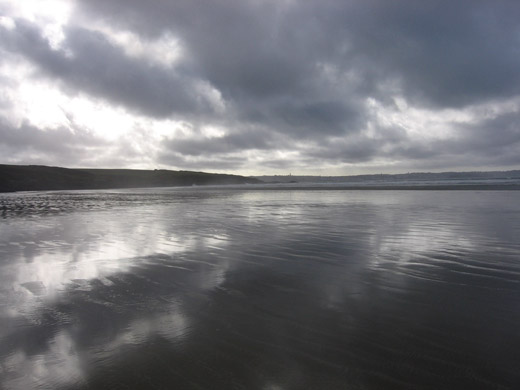 **
Brest II
Back in Brest, that night we played at Bar Ecossais, with the local Dunkelheit as a special guest. Many familiar faces were present at the venue, and we were given a bottle of home-made Chouchen from someone. We decided to perform a short but thundering set, transforming that very ordinary bar into something else, filling it with loud sound and smoke. Somebody had supposedly called the police because of the volume, but that did not affect our performance at all.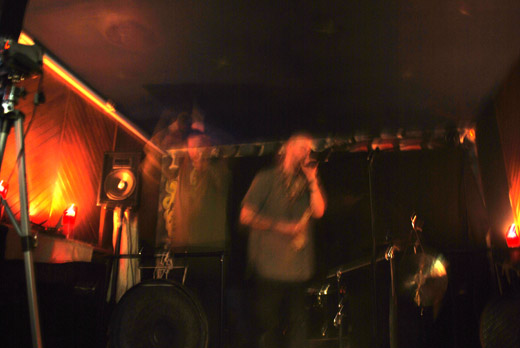 **
sen täytyy soida se on tehty kuten pyhät tekevät suovat sen soida
That night we raised libations with our local friends, and were given three Triskels (the solar-horn-spiral-cycle that is also the symbol of Brittany) from our host. On our way to Paris, we paused at the medieval castle town of Fougère, "The gate of Bretagne", walking in the shadows of the age old castle-walls, and said farewell to that mythic land, as we entered into another.
Paris
In the evening, we finally arrived in Paris, and set up to perform at Quai St Bernard, an amphitheater situated right by the Seine. Paris, as so many mirroring old sacred cities by large rivers, is an ancient place of power and prosperity, albeit like so many other places of old, Paris too has been overshadowed by soul-consuming banality that has perhaps overshadowed some of the spirit(s) it once embodied. But the power is still there, lingering on underneath the surface of things – it is alive in myth and urban lore, in spirit and song, in cathedrals and catacombs, in high places and underground, in gardens, streets and alleyways. Here the sacred and the profane walk side by side – one needs only to look in the right way to find what is hidden in plain sight. The city of light, by the ever-flowing Seine.
And it is with this spirit and flow that we merge, and let it flow out of us and into us and back – as everything flows. When there is a connection, there can be no doubt or hesitation. We invoked in that sacred of places, poured out the last libations, and sent the ashes gathered into the river.
kasta valoon vanha LUUtetia nosta kuivaan ilmaan anna joen huomaan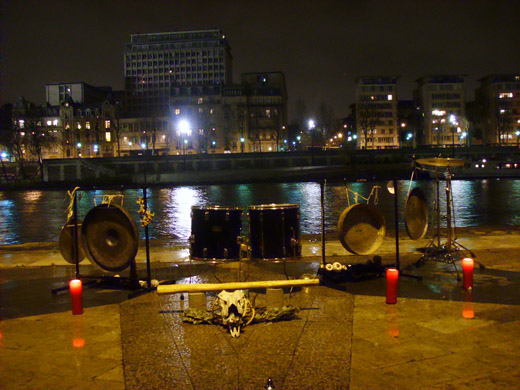 Photo: Boris
**
+++ Live photos from Quai St Bernard taken by Boris
Afterward, we heard of civilian policemen supposedly coming by, partially because of the politically volatile climate in Paris, but during our performance we heard nor saw nothing, save for the aim of our invocation.
Strolling in Paris, in the shadow of one majestic monument after another, one cannot help but wonder at simple scale of it all – and its natural "underside". Hearing and reading stories of people living not only in the catacombs, but also in abandoned stations and places connected to the subwaysystem, we again understand that there is a whole other world beyond the veil of the apparent. Just recently, a cinema and a restaurant were discovered in a previously uncharted part of the catacombs – and the article revealing this ended and summarized it succintly by saying: "You have no idea what's down there."
Engaging in some chance meetings and la plaisir du Diable in this Green and fair city, namely La Fée Verte traditionally served, the journey came to its conclusion.
A special Thank You should be given to all friends, hosts and guides, old and new, who we crossed paths with under a good sign.
~ Caickuwi Cauwas Walkeus ~
**