Meta-voices and UR-sounds ~ the Black Hole opens. Shrouded in fumes, black and red, out pours the rum. Smeared by ash, around the pillar of smoke, the World-Ash, we commune.
Aural Holograms Live Photos
***
Garden invocation, private event – Lille, France – Jan 28th 2008.
Gardens are, ideally and classically, outdoor temples, something way beyond the simply fanciful or superficial. Gardens are a sacred space, where art and nature meet, where wild untamed nature is contrasted with urban (dis)order, where the temporal and the timeless meld. They are a microcosmic representation of macrocosmic balance, and in every garden there is a hidden center of the world. They are places of reflection, dream, connection, invocation.
In such a small, secluded garden, fires and candles were lit, and a small number of participants gathered to commune and hear what is spoken without words. The trees formed a shrouded circular, enclosing space, and yet through the branches of this small garden shrine, the stars above were visible and bright. Animalspirits and familiars from past and present at our feet, the treebranches as the arms of MAa itself, upon which gongs, bells, chimes and other sacred instruments hang.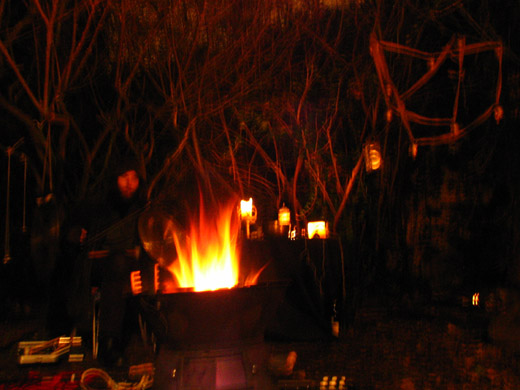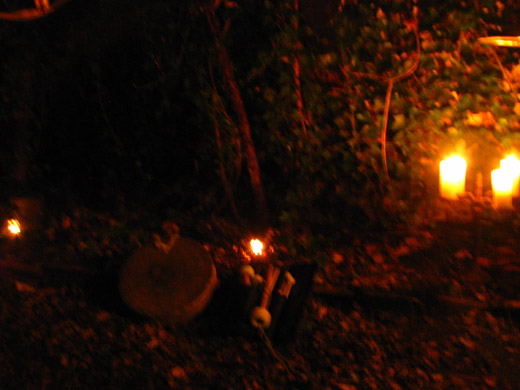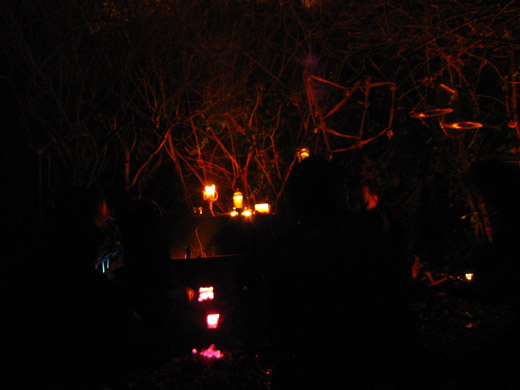 In this enclosed garden, silence and sound combined to form another space, in its center an altar of fire. Embers of that fire shall remain with all those who were present.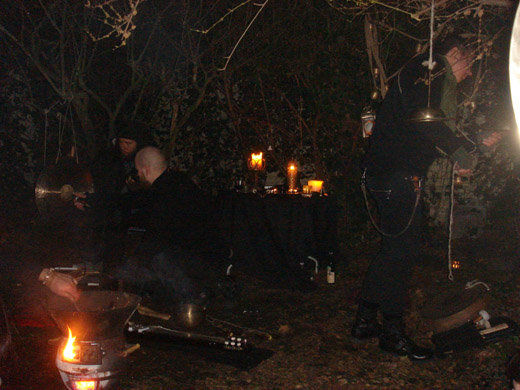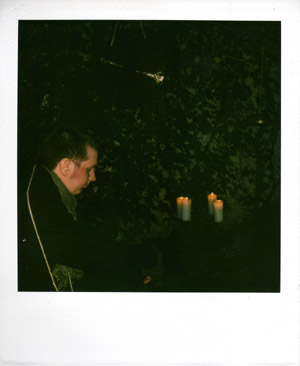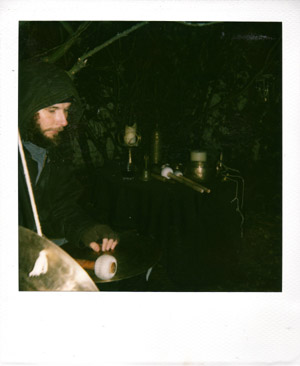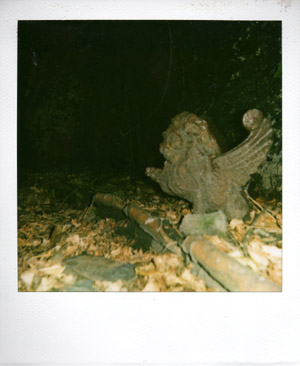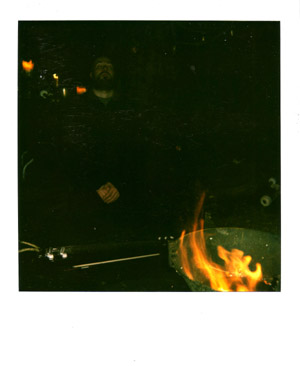 ***
Tripartite journey of sacred sites - Belgium & France. Jan 29th 2008.
I. Sacred Tree of Arbre α Puces, forest of Stambruges, Belgium.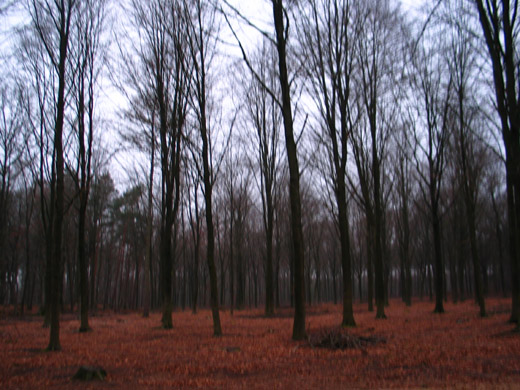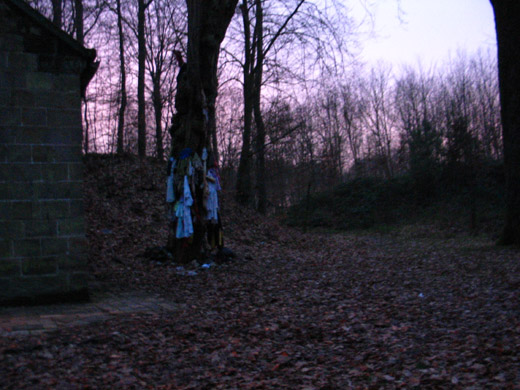 After walking through the damp veins of the forest of Stambruges, one finds in it's womb the old sacred tree of Arbre α Puces. Dating from pagan times, the archaic and dark tree is filled with clothes and pieces of things people have hang on it, in order to take part in its' spirit and receive blessings for kith and kin.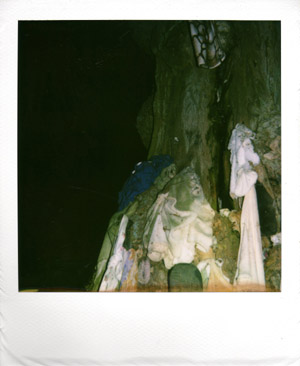 As has been the case with holy trees throughout the world after the advent of christianity, attempts to burn the tree had been several, but seemingly to no avail – it had not taken fire. As has also been the case with many holy places in the past, when the residual power and Life of a place cannot be subjugated, it has been tried to be re-directed toward new religious agendas – and so it has also been with Arbre α Puces. A small wayside chapel has been built right beside it, with a small place for candles on its one side. And yet this stone building, that seems strangely lacking in almost all visible signs and symbols of christianity, has not succeded in re-directeting the energy of the place anywhere – as the place surrounding the tree has an ageless current and power all of its own.
And at the l'heure bleue of dusk, the threshold hour, it was with this current our conclave of voyage communed. Around this worldtree we circled, our rustling steps echoing those countless steps of times past. Around this axis of worlds we invoked, using horn, holy oil, spirits and silent signs. Then we listened, as we are listenig still.
II. Terril de Raishes.
Ascending gentle footpaths up a slope to the top of a hill. A dual view - on one side Belgium, full of blinking citylights, on the other France, dark as one great forest. The sky above a strange deep warm colour. To these skies we called our three horns, in one silent processing circle.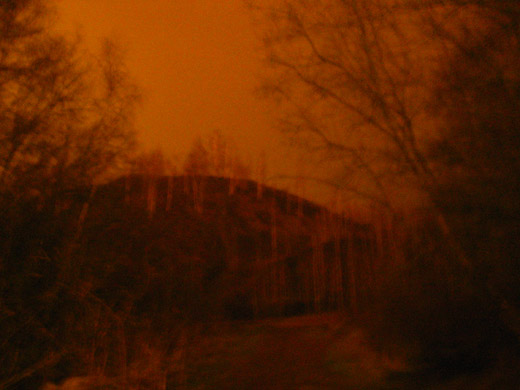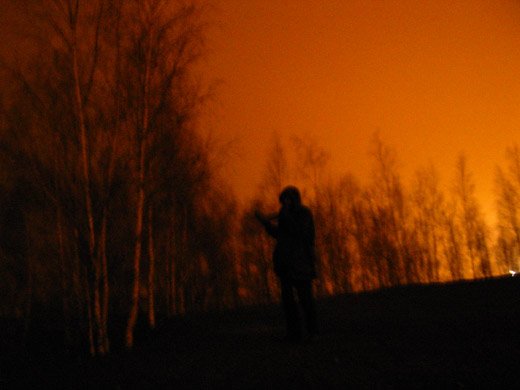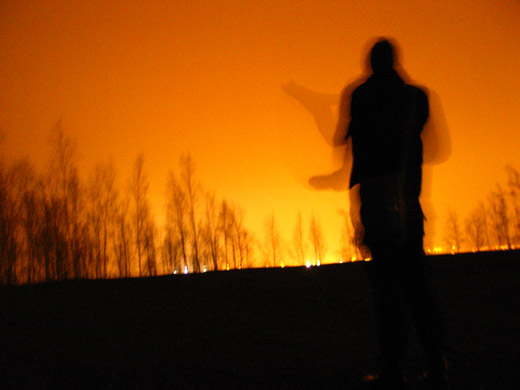 III. Sacred Tree of Arbre α Loques, forest of St.Amani, Hasnon, France.
The journey concluded at the site of another holy tree, the Arbre α Loques, just by the side of the road. Even this tree had a wayside chapel next to it, and the tree was obviously young and small. And yet, it was still filled with pieces of cloth, left there by people to receive blessings and to relive suffering – which speaks volumes of the persistence and ageless power of certain places, holy trees and the archetypal connections to the eternal they embody.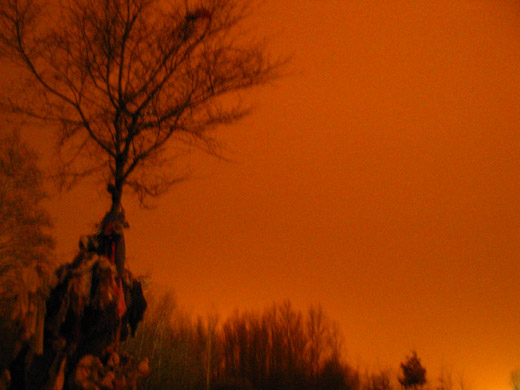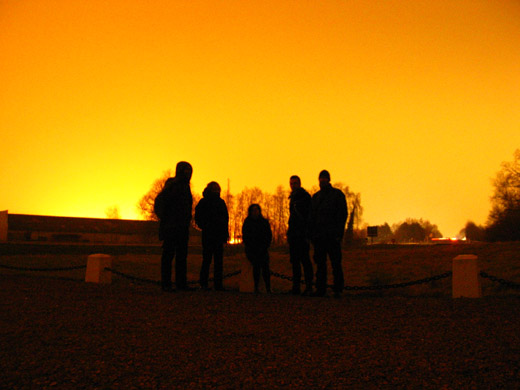 ***
Halo Manash – La Rumeur, Lille France – Jan 30th 2008.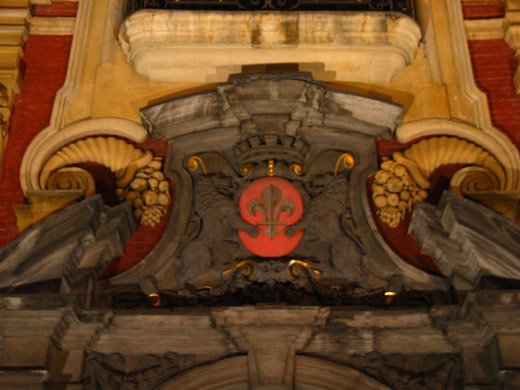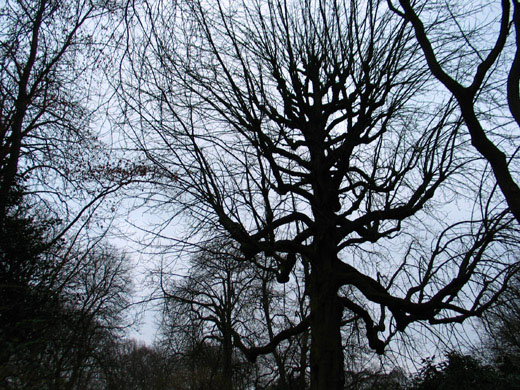 ***
Polar Stones...
What was born at the apex of light in the crown of summer by the great ocean, is finding its form and face slowly. It is stumbling toward coming-into-being, in winter and in places under the ground. Dual deerskulls were present, mirroring our own antlers ascending skywards, toward the absolute light.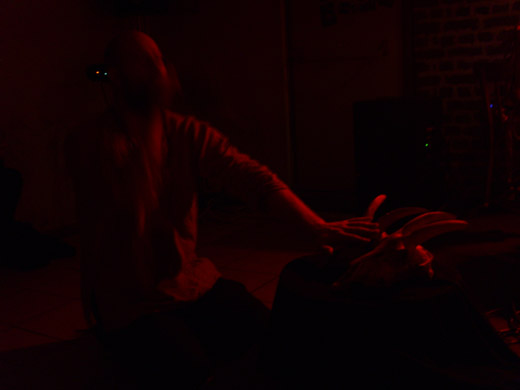 Taken by Boris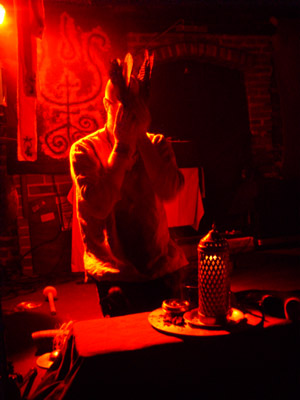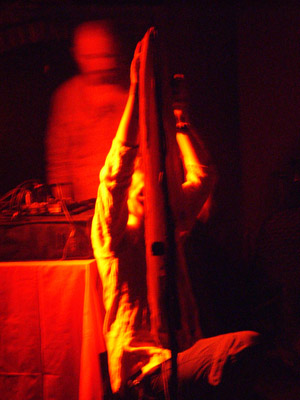 Taken by Boris
Again, we approach the polar stones, as do the small number of people gathered here. On those arcane stones we lay ourselves to rest, and hear the approaching bears and birds. Teeth rend and shatter in a feast of the living and the not-yet-born. We are devoured...